Sistemath Diamond
Watercooler with cold and hot water, equipped with a high-performance purification system of 2 water filters and UV sterilization
Efficiently filtered water with natural taste; retains its mineral content
No PET bottles - the equipment is connected to the public drinking water network and you no longer have to worry about carrying and storing PET bottles
Instantly provides cold and hot water
Installation and maintenance provided by the La Fântâna technical team
Monthly subscription with payment automatically withdrawn from the card
Free sanitation and replacement of water filters every 12 months: MICRO CARBON and NANOFACT PLUS
Additional filter to be replaced in-house every 6 months
Efficiently filtered water with natural taste; retains its mineral content
No PET bottles - the equipment is connected to the public drinking water network and you no longer have to worry about carrying and storing PET bottles
Instantly provides cold and hot water
Installation and maintenance provided by the La Fântâna technical team
Monthly subscription with payment automatically withdrawn from the card
Free sanitation and replacement of water filters every 12 months: MICRO CARBON and NANOFACT PLUS
Additional filter to be replaced in-house every 6 months
Smart technology at the service of man and nature
Inspired by the way nature has created, over the years, the most advanced water filtration systems, we managed to integrate them into the Sistemath range of watercoolers with the help of science. Sistemath Diamond is part of this range and manages to offer you at your discretion and in a comfortable manner an efficient, tasty, and drinkable filtered water for you and your family.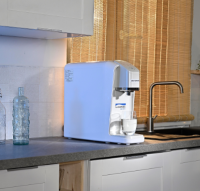 The Sistemath Diamond watercooler has a filtration system consisting of two water filters:
MICRO CARBON FILTER (Certificat IBA București)
It removes sediments such as sand and rust, up to 3 microns in size, absorbs some of the volatile organic substances, and removes chlorine, refreshing the taste and smell of water. The filtration capacity is a maximum 1800l.
NANOFACT PLUS FILTER (Certificat IBA București)
It removes contaminants down to 0.2 microns in size and removes bacteria and viruses through the pores of the cellulose nanofiber. The filtration capacity is a maximum 3200l.
Automatic LED sterilization system with UV light
The faucet is automatically sanitized using a UV LED.
Direct cooling system
The device has a compressor and cold water tank and cools water directly inside the closed tank without contact with air. Thus, the risk of contamination of water with dust or bacteria in the air is reduced.
Instant heating system
Superior electricity saving (The instant heater is activated only when it releases hot water). Device allows choosing the temperature for hot water (40°C / 70°C / 80°C)
Convenient dosing
Volume control function (120/550/1,500ml);
Continuous water distribution function (1,500ml);
Removable water tap
The removable water tap makes cleaning simple for increased hygiene.
Minimalist design
Thanks to its ultrathin 18 cm format, the device easily makes its way into every kitchen.
Filter replacement indicator
When the filters reach their maximum filtration capacity or shelf life (12 months), the purifier indicates this detail with the help of two flashing LEDs.
Dimensions
Cold water tank capacity – 0,9 liters
Dimensions (mm - width/ depth/ height): 18 (W) x 51.4 (D) x 43.2 (H) cm
In addition to the product itself that will help you have good drinking water at home, we also support you to take care of it. Thus, when you choose a subscription, you also receive filter exchange and free sanitation, as well as installation and maintenance provided by qualified technicians.
1
Order the product with online payment by subscription
2
You leave us your data and we conclude the contract online
3
When you order, you pay the first month of the subscription and the installation fee
4
The team of qualified technicians comes and installs the device
5
The subscription amount will be automatically withdrawn from your card monthly
6
We come to you when maintenance is needed