La Fântâna Training Center
The places where we constantly innovate and present to our partners the way in which we offer the best water and coffee services.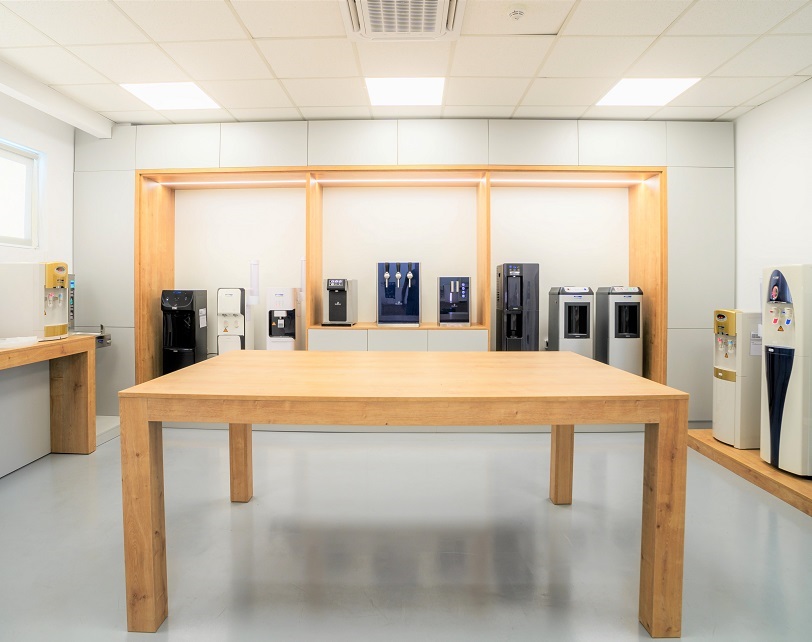 In our Water Training Center,
we combine innovation with a commitment to society to provide effective and sustainable hydration solutions.
Based on more than 24 years in which La Fântâna has accumulated experience, this center presents solutions built on smart technologies that mimic natural water filtration processes. The result? Pure, safe, and good to drink water, safe and eco-friendly hydration alternatives to drinking water bottled in plastic.
La Fântâna Training Center demonstrates our adaptability to changing customer requirements and focuses on creating a sustainable future through environmentally friendly hydration solutions. This center is more than a showroom for our BWC (bottled water) and POU (filtered water) watercooler solution; It is an educational and practical space that functions as a workshop where all the equipment in the portfolio is exhibited and presented. We invite here all those who want to interact with our equipment, understand its dimensions, proportions, and design, and discover its functionalities and how they can be integrated into various environments.
Here, our colleagues learn not only how to answer customer questions, but also how to provide innovative advice and solutions for each specific need. The courses are held by our food safety experts. We generously invest resources in developing and training our team of technical specialists, ensuring that they are equipped with absolutely all the necessary skills to be able to offer our customers an exceptional experience. This team of rigorously trained professionals is the backbone of our commitment to quality and customer satisfaction.
Read more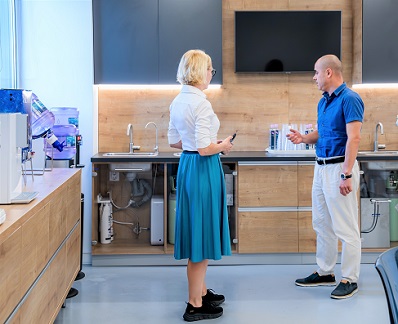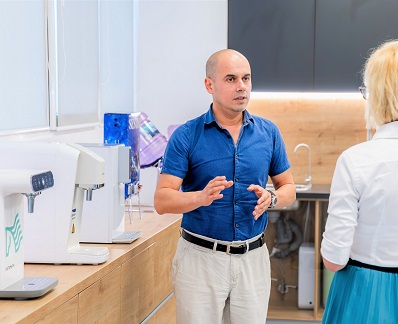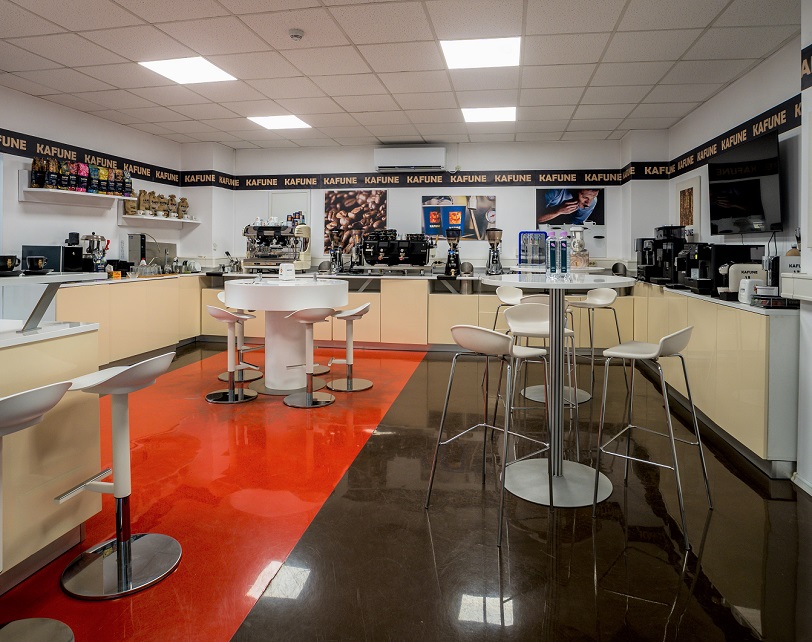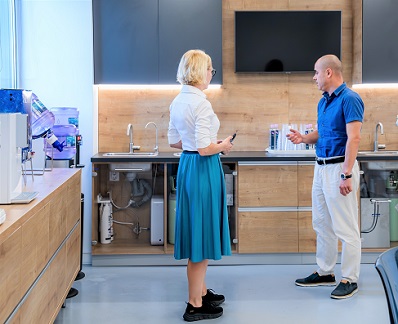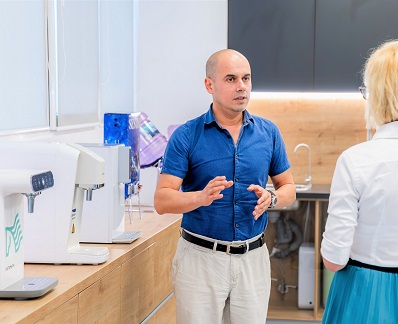 The KAFUNE Training Center
is the place where passion for coffee turns into expertise. This is where the coffee journey begins – from blend to our customers' cups.
In this training center, our colleagues learn more than theory; They discover the world of coffee – from knowing the diversity of coffee varieties, to the roasting process and identifying the characteristics of quality beans, each stage is explored in detail with due care. Preparation methods, including latte art techniques, are approached and explored in order to subsequently provide our customers with a complete insight into the coffee brewing process.
With a deep focus on knowledge, just like in a laboratory, we offer our customers complete tastings of all KAFUNE blends, ensuring that every choice is made following a personalized experience. Also, our customers receive complete training in preparing a perfect espresso, a perfect cappuccino, a process that includes both latte art techniques and useful tips for creating authentic experiences.
The KAFUNE Training Center is a space where quality is not just a goal, but a continuous journey towards perfection. Here, every batch of coffee undergoes rigorous evaluations to ensure that every bag of coffee and every capsule that goes to our customers meets the highest standards.
This center functions as a dedicated laboratory, where visual and organoleptic checks are carried out with attention to the smallest detail. Each coffee is analyzed to evaluate flavor, taste, texture, and balance. In addition, we perform tests on different types of devices, ensuring that the blend combines perfectly with various preparation methods.
During checks, we pay special attention to the blend. Since Arabica and Robusta require different water temperatures to highlight their distinct characteristics, we adjust the evaluation process for each type of coffee. We also check the quality of the grains themselves, as well as their degree of roasting and grinding. Every step of the process undergoes meticulous examination to ensure we offer the highest quality coffee.
The Coffee Quality Training and Verification Center represents our commitment to providing superior coffee products. This space represents the meeting point between modern technology and artisanal tradition, a convergence point that helps us offer our customers a true coffee experience of the highest quality.
Read more