Aquacool Ultra 3
Subscription with watercooler and 57 liters of water, delivered monthly in 19l reusable bottles
You receive a watercooler with cooling and heating functions in custody
We deliver right to your door, on a monthly basis, 57 liters of water bottled in 19L reusable bottles
The delivery services is based on returning the empty bottles - with each delivery we bring you three full bottles and take back the empty ones
Drink water more sustainably. Take care of the environment by not putting PET packaging into circulation
You only pay the cost of the reusable bottles once, with the first purchase. You can return the packaging at the end of the contract
Report available in your account
You receive a watercooler with cooling and heating functions in custody
We deliver right to your door, on a monthly basis, 57 liters of water bottled in 19L reusable bottles
The delivery services is based on returning the empty bottles - with each delivery we bring you three full bottles and take back the empty ones
Drink water more sustainably. Take care of the environment by not putting PET packaging into circulation
You only pay the cost of the reusable bottles once, with the first purchase. You can return the packaging at the end of the contract
Report available in your account
Aquacool Ultra 3
The Aquacool Ultra 3 subscription is a sustainable La Fântâna service through which we bring you monthly water in 19L reusable bottles to your home. In addition, you receive in custody a watercooler (water dispenser), with cooling and heating function. The dispenser is installed by a La Fântâna representative within 3 to 14 days of purchase, depending on the address where it needs to be installed. The installation cost (18 euros, VAT included) is automatically added to the cart with the subscription.
The three bottles from the Aquacool Ultra 3 subscription will be paid only once, at the first purchase. If necessary, additional 19-liter bottles can be ordered. At the end of the contract, they can be returned to La Fântâna headquarters in exchange for the amount initially paid. Note: Your subscription payment will be automatically withdrawn from your card every month. You will only need to place your order monthly, so we can make sure we deliver your water when you are at home.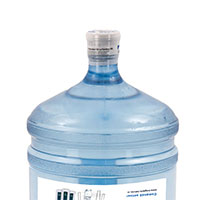 Specifications:
Features: Inside-out cooling probe / Proven efficient technology
Size: 33 (W) x 35 (D) x 105 (I)
Color: White and Blue
Water dispersion options: hot and cold
Tank capacity / Cooling performance / Heating
Cold: 5.9 liters/ hour / Hot: 7.9 liters/hour
Location Type: On the floor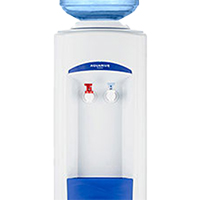 How does the online subscription work?
1
You order the product with payment through subscription.
2
You provide your details so we can conclude the online contract.
3
When you order, you pay the first month of the subscription and the installation fee.
4
The team of La Fântâna qualified technicians comes and installs the device.
5
The subscription amount will be automatically withdrawn from your card on a monthly basis.
6
We will come to you when maintenance is needed.