Enjoy 100 INTENSO
Subscription - 100 premium Kafune capsules per month and espresso machine included
High-performance and ergonomic espresso machine in custody
100 KAFUNE capsules per month, included in the subscription
Free delivery of subscription capsules
Unconsumed coffee can be ordered the next month
KAFUNE Intenso blend in 9 grams capsules for a perfect espresso
Maintenance/Service provided by La Fântâna specialists
High-performance and ergonomic espresso machine in custody
100 KAFUNE capsules per month, included in the subscription
Free delivery of subscription capsules
Unconsumed coffee can be ordered the next month
KAFUNE Intenso blend in 9 grams capsules for a perfect espresso
Maintenance/Service provided by La Fântâna specialists
KAFUNE Jolly – High-performance and ergonomic espresso machine
As small as it is powerful
KAFUNE Jolly is a small and high-performance espresso machine, suitable for small offices and individual cabinets. With an ergonomic design, it will find its place in your space and will always give you an excellent espresso. It works on capsules compatible with Lavazza Blue systems, and our consultants can help you with an ideal package for your team, depending on your taste preferences and size.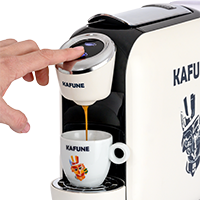 KAFUNE INTENSO
Coffee with complex flavors, strong and with a special personality, which you recognize in any cup, and its body is one of the memorable features. Resulting from the combination of Arabica and Robusta beans, KAFUNE INTENSO proposes a special taste. Its flavor is intense and reminiscent of freshly toasted bread. It is the right coffee for those who want, at the same time, refinement and intensity.

Be prepared to enjoy the taste of Italy right at home.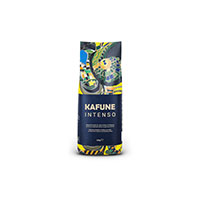 Specifications
Size (H-W-D): 245 x 120 x 375 mm
Weight: 3.9 kg
Power consumption: 1050 W
Power supply: 230 V/50 Hz
Water tank: 0.6 lt
Espresso machine type: with Lavazza Blue (LB) compatible capsules
Coffee type: short and long espresso
Pump pressure: 15 bar
Color: black and white; KAFUNE