Sistemath Elite Carbo
Water filtration watercooler, available with subscription system for companies
It can provide still water and carbonated water;
Provides cold or hot water;
Created specifically for medium and large companies;
It filters water through a high-performance system of 3 filters.
It can provide still water and carbonated water;
Provides cold or hot water;
Created specifically for medium and large companies;
It filters water through a high-performance system of 3 filters.
High-performance water filtration watercooler for still and carbonated water.
It is the equipment that provides abundant purified water, thanks to its generous tanks. Provides good, fresh water with a carbonation option for users who prefer carbonated water.
This premium watercooler with a filtration system addresses companies that want to bring added value in terms of employee hydration and offers variation in the form of water consumption (hot/cold/flat/carbonated). It allows the use of tall containers, with generous space in the loading area. The control panel with indications makes it easy to understand how to use and the UV sterilization function ensures the hygiene of the watercooler.

With a pleasant design, this bottleless watercoolers is easy to integrate into any office space. High-performance filtration systems ensure water quality efficiency for the end user, and the anti-flood safety valve effectively prevents accidents.

If you want such a system for your company, write to us!
We create a customized subscription for each team and stay by your side with a dedicated package of services, so you always enjoy the best hydration moments.
Dedicated consultant - With you to understand your needs and create the best offer
Equipment installation - Professional installation in the shortest time by specialized personnel.
Usability Training - We teach you to use the equipment correctly, so that you can enjoy all the benefits
Quick interventions - Always at your service, should the equipment needs repairing
Regular maintenance - We carry out all proper sanitation and operation procedures.
Delivery to your door - Our team quickly delivers the ordered equipment.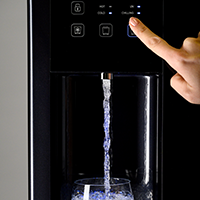 About filters:
SEDIMENT FILTER (IBA Bucharest tested)
It can retain from the water all particles with a diameter greater than 5 microns (sand, clay, rust, etc.), with a filtration capacity of a maximum of 3600 liters depending on water quality. This filter will be replaced every 6 months.
Ultra filter (IBA Bucharest tested)
It is a filter designed to separate very small pollutants. It consists of membranes made of polysulphonic material, a material with special physicochemical properties, which retains microscopic particles from the water, purifying it.
Filtration capacity 10,800 liters, this filter will be replaced every 6 months.
CARBON BLOCK FILTER (IBA Bucharest tested)
This high-quality block-activated carbon filter retains particles down to 3 microns in diameter from the water and refreshes its taste and smell. It has a maximum filtration capacity of 7200 liters depending on the mains water quality. This filter will be replaced every 6 months.
Technical specifications:
Facilities: Generous space in the water dispersion area, allowing the filling of containers of different sizes / Control panel with indications / Safety lock for hot water / Leak detector / UV sterilization / Anti-flood safety valve
Size (cm - Width/ Depth/ Height): 33 (L) x 42 (D) x 42 (H)
Color: Silver/Black
Water dispersion options: cold/hot/flat/carbonate
Tank capacity /Cooling performance / Heating: up to 20l/h
Location Type: On the floor