Sistemath Luxium
Watercooler for cold and room temperature water, with 3 water filter system
Efficiently filtered water with good taste; maintains its mineral content
No PET bottles - the equipment is connected to the local drinking water network and you no longer have to worry about carrying and storing PET bottles
Instantly provides cold and ambient water
Installation and maintenance provided by our technical team
Monthly subscription with payment automatically withdrawn from the card
Free replacement of all water filters every 12 months and service included
Efficiently filtered water with good taste; maintains its mineral content
No PET bottles - the equipment is connected to the local drinking water network and you no longer have to worry about carrying and storing PET bottles
Instantly provides cold and ambient water
Installation and maintenance provided by our technical team
Monthly subscription with payment automatically withdrawn from the card
Free replacement of all water filters every 12 months and service included
Smart technology at the service of man and nature
Inspired by the way nature has created, over the years, the most advanced water filtration systems, we managed to integrate them into the Sistemath range of watercoolers with the help of science. Sistemath Luxium is part of this range and manages to offer you at your discretion and in a comfortable manner an efficient, tasty, and drinkable filtered water for you and your family.

Designed to provide quality water for your daily consumption, Sistemath Luxium offers cold or room-temperature water with a simple touch.

The device is easy to install at home, does not involve PET bottles because it connects to the local drinking water network and quickly finds its place into your home, due to its small size and compact, elegant design.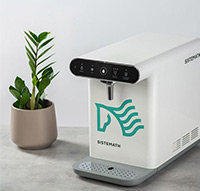 The Sistemath Luxium watercooler has a system composed of three consecutive filters:
MICRO CARBON FILTER (IBA Bucharest tested)
It reduces sediments such as sand, rust, or clay up to 5 microns in size adsorbs some of the volatile organic substances, and removes chlorine, refreshing the taste and smell of water. The filtration capacity is a maximum of 3600 liters, depending on the quality of the mains water.
NANOFACT FILTER (IBA Bucharest tested)
Removes contaminants down to 0.2 microns as well as bacteria and viruses through the pores of the cellulose nanofiber.
POSTCARBON BLOCK FILTER (IBA Bucharest tested)
This high-quality filter, based on block activated carbon, retains particles of up to 3 microns in diameter from the water and freshens the taste and smell of the water. It has a maximum filtration capacity of 7200l depending on the quality of the mains water.
Lock function
When lock mode is activated, no button works and protects you from careless use by children or others.
ECO function
Helps save electricity consumption by turning off the lighting around the appliance. When the lighting around the appliance decreases at night, the ECO function automatically stops cooling the water and adjusts the display's brightness.
Quantity control function
The equipment can be set for dosing water according to a preset amount of 120/250/500 ml.
Water cooling function
The equipment supplies cold water below 10 degrees via a closed module with direct cooling
Dimensions
Dimensions: 24 (W) x 48.8 (D) x 37 (H) cm
In addition to the product itself that will help you have good drinking water at home, we also support you to take care of it. Thus, when you choose a subscription, you also receive filter exchange and free sanitation, as well as installation and maintenance provided by qualified technicians.
1
Order the product with online payment by subscription
2
You leave us your data and we conclude the contract online
3
When you order, you pay the first month of the subscription and the installation fee
4
The team of qualified technicians comes and installs the device
5
The subscription amount will be automatically withdrawn from your card monthly
6
We come to you when maintenance is needed