Sistemath Nano
Watercooler for room temperature water, equipped with high-performance purification system with 2 water filters
Efficiently filtered water with natural taste; maintains its mineral content
Does not require a power supply
Provides water at room temperature
Installation by a specialized technician
Free filter replacement every 12 months and service included
Monthly subscription with payment automatically withdrawn from the card
Efficiently filtered water with natural taste; maintains its mineral content
Does not require a power supply
Provides water at room temperature
Installation by a specialized technician
Free filter replacement every 12 months and service included
Monthly subscription with payment automatically withdrawn from the card
Smart technology at the service of man and nature
Sistemath Nano is part of the Sistemath generation of filters, which imitates natural water filtration processes by means of science and technology.
The device has a minimalist design that will integrate perfectly into your home. The Sistemath Nano water filter has a 4-stage combi filtration system through two high-performance water purification filters. Each filter has been created using advanced technology that removes impurities such as rust, particles, chlorine, and mud. The taste of the filtered water is natural, and pleasant, and the mineral content is preserved.
The watercooler will be installed by a La Fântâna technician, and together with the device you will receive an additional MicroActivated Carbon filter, which you can change yourself after 6 months of use. The filter exchange is simple and does not require technical qualifications.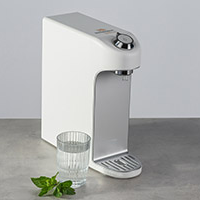 The filtration system is very efficient, inside the watercooler there are two types of filters:
UP Plus Sistemath filter (IBA Bucharest tested)
It is a combi activated filter, with carbon from the Philippines, that reduces sediment particles bigger than 1 micron and absorbs some of the hazardous organic chemicals from mains water. Maximum flow rate 3.8 liters/minute.
SP Plus Sistemath filter (IBA Bucharest tested)
It is a compressed carbon combi filter that removes chlorine, pesticides, and volatile organic compounds refreshing the taste and smell of mains water. Maximum flow rate 3.8 liters/minute.
Minimalist design
The Nano watercooler has a minimalist, small design, integrating easily into any kitchen countertop.
Ecological operating system
The device does not need to be connected to a power source. The eco-friendly, powerless, and noiseless operating system ensures fresh, room-temperature drinking water and is accessible to you or your family at any time.
Maintenance and service
We want it to be as simple as possible for you, that's why, after the installation by our specialist of the NANO filtration system, you will receive his annual visit to replace the filters with new ones and you can contact us for any kind of questions or for possible revisions.
Dimensions
Dimensions: 32.5 (W) x 11.5 (D) x 33.8 (H) cm; 2.8 kg.
When you decide to join our subscription program, the benefits are obvious. You always have a true expert in water filtration by your side. With Sistemath Nano, you no longer have to worry about changing filters or sanitizing your watercooler. All this is managed by us, so you can enjoy clean water without the taste and smell of chlorine, without any hassle.
In addition to providing you with a comfortable and worry-free water solution, we also offer complete installation and maintenance services provided by specialized technicians. Also, filter exchange and sanitation are included free of charge.
1
Order the product with online payment by subscription
2
You leave us your data and we conclude the contract online
3
When you order, you pay the first month of the subscription and the installation fee
4
The team of qualified technicians comes and installs the device
5
The subscription amount will be automatically withdrawn from your card monthly
6
We come to you when maintenance is needed