Aquacool Classic
Watercooler with still water
Watercooler system available for companies with a subscription
Provides still water, cold and hot
Compact and elegant design, ideal for an office space
Works with La Fântâna bottled water in 19 liter reusable bottles
Watercooler system available for companies with a subscription
Provides still water, cold and hot
Compact and elegant design, ideal for an office space
Works with La Fântâna bottled water in 19 liter reusable bottles
A practical solution to hydrate your team
If you want to provide your team with a daily dose of hydration, then choose the Aquacool Classic subscription service. It is a practical watercooler, provides instant cold or hot water for tea, and fits any office space. In addition, our consultants can help you with a personalized offer for your company, so that you have the necessary amount of water month by month.
The device is offered in custody, our colleagues will take care of the delivery of the water bottles, will take over the empty ones, and will be with you whenever you need technical assistance.
We create a customized subscription for each team and stay by your side with a dedicated package of services, so you always enjoy the best hydration moments.
Dedicated consultant - With you to understand your needs and create the best offer
Equipment installation - Professional installation in the shortest time by specialized personnel.
Usability Training - We teach you to use the equipment correctly, so that you can enjoy all the benefits
Quick interventions - Always at your service, should the equipment needs repairing
Regular maintenance - We carry out all proper sanitation and operation procedures.
Delivery to your door - Our team quickly delivers the ordered equipment.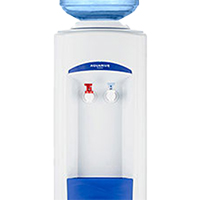 Technical specifications:
Features: Inside-out cooling probe / Proven efficient technology
Size (cm - Width/ Depth/ Height): 33 (W) x 35 (D) x 105 (H)
Color: White and Blue
Water dispersion options: hot and cold
Tank capacity / Cooling performance / Heating
Cold: 5.9 liters/ hour; Hot: 7.9 liters/hour
Location Type: On the floor