Blupura Box 280 L
Professional system for purifying and improving water quality
Equipment created especially for the HORECA sector
Cold, ambient, and carbonated water
Filters water and keeps it in optimal consumption conditions
Ideal for spaces with high water consumption
Equipment created especially for the HORECA sector
Cold, ambient, and carbonated water
Filters water and keeps it in optimal consumption conditions
Ideal for spaces with high water consumption
Equipment for water purification and storage, especially for HORECA
The professional system consists of a series of 5 components. The sequence of filters Sistemath Duon, UV lamp, CO2 cylinder (R290 - Carbon dioxide from natural sources for food and beverages) mounted together with the Blupura Box 280 L unit under the bar. The Blupura Tower 3W battery, mounted on the bar, facilitates the dispersion of still or carbonated water.

If you have a HORECA space for which you need such equipment, leave us a message! A La Fântâna consultant will create a customized package for you. In addition, it can also provide you with technical information or details on how to provide your team, together with us, with training in the use of this equipment.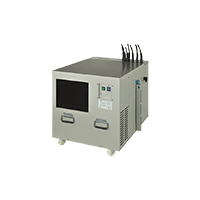 Technical specifications:
Blupura Box 280 L
Refrigeration capacity: 280 liters/hour
Continuous delivery capacity: 120 lite
Carbonated water capacity – 78 L / hour
Continuous carbonated water delivery capacity – 15 liters
Water outlet temperature: 5 - 12°C
Ice bank cooling system
Adjustable thermostat
Robust material construction made of stainless steel, thermoplastic, and some aluminum parts
Water supply pipe: Ø3/8" (9.52 mm)
A safety valve that prevents possible water leakage
Supply voltage: 230 V - 50 Hz
Compressor power: 1/3 HP
Absorption (max): 875W - 3.8A
Alarm for: No water, no CO2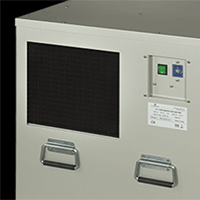 Blupura Tower 3W
Power supply: 230 V - 50 Hz
Power consumption 30 W - 0.19 A
Water temperature: 5 - 12 °C
Water supply pipe JG Ø 8 mm
CO2 inlet pipe JG Ø 8 mm
Height of distribution surface (mm) 319
Category: Countertop mounting
Net weight: (kg) 8
Gross weight: (kg) 10
Dimensions: Height x Width x Depth (mm) 227 x 209 x 514
Distribution options: Still cold water and carbonated water with the possibility of customizing the quantity of water distributed
Materials: Robust stainless steel
Stainless steel buttons
Alarm for: No water, no CO2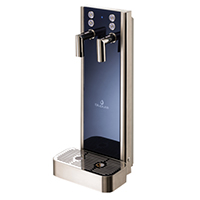 UV sterilization
Additional sanitizing system with inoculum housing. It is known that known microorganisms are sensitive to UV light which prevents their proliferation.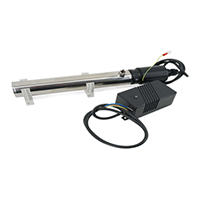 Duon filters
Sediment filter (Testa IBA Bucharest)

Polypropylene filter with a structure that ensures excellent filtration capacity of residues up to 1μm; Eliminate signs such as rust, sand, and clay.
Activated carbon filter (Testa IBA Bucharest)

Compressed block activated carbon filter that absorbs and removes chlorine and secondary chlorination compounds (trihalomethanes), iron, organic substances, and dissolved gases to provide the fresh and natural taste of water.