Bluesoda Hot 30 Fizz
Watercooler with water filtration system, providing still and carbonated water
Equipment available with subscription system for companies
Ideal for medium to large teams
Provides still, cold, or hot water; still and carbonated
Sustainable, facilitates hydration without PET bottles; equipped with an ECO function
Equipment available with subscription system for companies
Ideal for medium to large teams
Provides still, cold, or hot water; still and carbonated
Sustainable, facilitates hydration without PET bottles; equipped with an ECO function
Watercooler with innovative purification system, high performance and modern design
Bluesoda Hot 30 Fizz is a filtration equipment that provides filtered water to the highest standards. You can select both plain and carbonated water at different temperatures, easily set with the intuitive menu. It is a sustainable choice for hydration, as it supports water consumption without the use of PET bottles; At the same time, it has a technology that uses ecological refrigerants. When the ECO function is activated, the system enters energy saving mode and the hot water temperature is low and the button lighting is interrupted

Watercooler with water filtration system uses a natural refrigerant, HC R290, which does not contribute to global warming.

The system is ideal for medium and large teams, And if you want an offer for him, write to us!
We create a customized subscription for each team and stay by your side with a dedicated package of services, so you always enjoy the best hydration moments.
Dedicated consultant - With you to understand your needs and create the best offer
Equipment installation - Professional installation in the shortest time by specialized personnel.
Usability Training - We teach you to use the equipment correctly, so that you can enjoy all the benefits
Quick interventions - Always at your service, should the equipment needs repairing
Regular maintenance - We carry out all proper sanitation and operation procedures.
Delivery to your door - Our team quickly delivers the ordered equipment.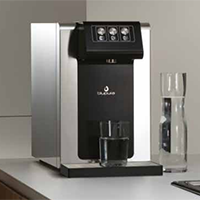 About filters:
SEDIMENT FILTER (IBA Bucharest tested)
It can retain from water all particles with a diameter greater than 5 microns (sand, clay, rust, etc.), with a filtration capacity of a maximum of 3600 liters depending on water quality. This filter will be replaced every 6 months.
Ultra filter (IBA Bucharest tested)
It is a filter designed to separate very small pollutants. It consists of membranes made of polysulphonic material, a material with special physicochemical properties, which retains microscopic particles from water, purifying them. Filtration capacity 10,800 liters, this filter will be replaced every 6 months.
CARBON BLOCK FILTER (IBA Bucharest tested)
This high-quality block-activated carbon filter retains particles down to 3 microns in diameter from water and refreshes the taste and smell of water. It has a filtration capacity of a maximum of 7200 liters depending on the quality of the mains water. This filter will be replaced every 6 months.
Dry cooling technology:
Ensures the right temperature for comfort in all situations.
Energy saving function:
Reduces energy consumption by 75% and helps efficiency in use.
High-quality stainless steel illuminated buttons.
It provides up to 4 types of water: cold, carbo, room temperature, and hot.
Technical specifications:
Weight: 30 kg
Dimensions ( mm): 261 (L) x499 (D) x 418 (H)
Height of water distribution area (mm): 276
Dimensions Width x Depth x Height (mm) :261x499x418
Capacity: Cooling 30L/hr
Features a professional 1L stainless steel boiler for hot water