Bag-in-box package (16 x 10)
16x10L spring water + free metal stand
Bottled fresh spring water in Tălmaciu, Sibiu County
Sustainable PET-free hydration solution
Comes together with a free metal stand for your first order
Bottled fresh spring water in Tălmaciu, Sibiu County
Sustainable PET-free hydration solution
Comes together with a free metal stand for your first order
The bag-in-box. One of the most innovative packaging systems for water.
Fresh spring water, bottled in Tălmaciu, Sibiu County. The water is bottled in an innovative box with a special system, which protects from the sun's rays and does not allow contact with air even after unsealing. Thus, throughout use, the content is protected from microorganisms.

The 10-litre box has its own faucet and can be placed on the worktop or in a mini watercooler. On your first order, you receive free support from us.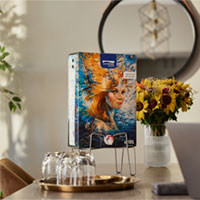 Here's why the Bag-in-Box system is the ideal choice for you:
Safety and Quality
The bag-in-box system is a practical and efficient way of packaging and distributing water, ensuring a longer product life and a more pleasant user experience. Inside the box, there is a special bag that protects the liquid and does not allow its contact with air, even after unsealing.
Waste reduction
With a design designed to minimize waste generation, the Bag-in-Box system is an excellent alternative to traditional packaging. The durable cardboard box can be easily recycled, and the inner bag ensures maximum efficiency in space use, which significantly reduces environmental impact.
Efficiency in Storage and Transport
The bag-in-box has a compact shape and layout that allows you to keep several boxes in a confined space.
Advanced Product Protection
Thanks to its innovative features, the Bag-in-Box system provides an excellent barrier against light and air. This helps extend the shelf life of the product, minimizing waste and the need for additional transportation.
Easily recyclable
Most components of the Bag-in-Box system are recyclable, including plastic bags and cardboard boxes.