Kafune EP Compatible Capsules Pack
200 Serenita Capsules + 200 Equilibrio Capsules compatibile Espresso Point
The package contains four packs of 100 capsules each (200 SERENITÀ and 200 EQUILIBRIO)
The capsules are compatible with the Espresso Point® system*
Each capsule contains 6.8g of KAFUNE ground coffee
The package contains four packs of 100 capsules each (200 SERENITÀ and 200 EQUILIBRIO)
The capsules are compatible with the Espresso Point® system*
Each capsule contains 6.8g of KAFUNE ground coffee
Two coffee blends for moments of relaxation
KAFUNE SERENITÀ
The espresso obtained from KAFUNE SERENITÀ capsules is more delicate, but with the same strong flavor, due to the larger amount of Arabica. The fruity shades reveal the freshness of the coffee, and the deep taste turns it into a moment of relaxation every day.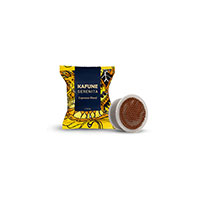 Cafeaua EQUILIBRIO
KAFUNE EQUILIBRIO is the round, balanced blend created from the blend of Arabica and Robusta and the result pleases many coffee lovers: slightly bitter, fragrant as much as it should be, with a light acidity and medium body. It is the ideal coffee for days when you harmoniously juggle work and relaxation.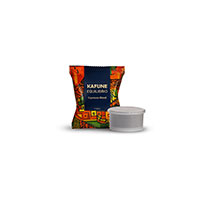 *Espresso Point® is a registered trademark of Luigi Lavazza SPA. La Fântâna SRL is not associated with or sponsored in any way by Luigi Lavazza SPA.