Refill Pack (4 x 8) & Coffee
32 liters spring water + 0.5kg coffee beans KAFUNE Intenso
We replace empty bottles from the Start package with full ones
Each 8L bottle contains spring water bottled in Tălmaciu, Sibiu County
A sustainable hydration solution
The package also contains a bag of 0.5kg KAFUNE INTENSO coffee beans
We replace empty bottles from the Start package with full ones
Each 8L bottle contains spring water bottled in Tălmaciu, Sibiu County
A sustainable hydration solution
The package also contains a bag of 0.5kg KAFUNE INTENSO coffee beans
Description of spring water
La Fântâna bottles spring water in a state-of-the-art factory in Tălmaciu, Sibiu County. Continuously tested and not subjected to any physicochemical intervention, the water is oligomineral, with a total mineralization of less than 500 mg / l, with a pleasant and balanced taste, due to calcium and magnesium salts, and a stable mineral composition.

This water falls into the category of those recommended for daily consumption, having an extremely low sodium content, and is also recommended for those with dietary restrictions - for example, hypertensive people.
KAFUNE coffee
KAFUNE INTENSO is strong, full-bodied, and full of personality. With this coffee, you can make a classic Italian espresso which you can enjoy at home. The creation of Italian artisans, who masterfully combined Arabica and Robusta beans to obtain a special coffee, INTENSO offers a strong and sophisticated taste.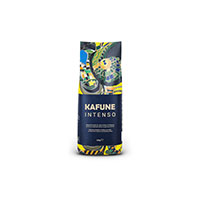 How the Refill pack works
We bring you full bottles and take the empty ones, in the number indicated by you in the order. Tell us how many empty bottles you want to return and their price will automatically be deducted from the price of your order.
Are you on your first order?
If you haven't ordered an 8L La Fântâna hydration pack yet, choose the Start package suitable for your needs.
How the Start & Refill package works
If you already have 8 liter bottles from a Start package, you will follow the procedure from steps 3 and 4, if you don't you start from step 1.
1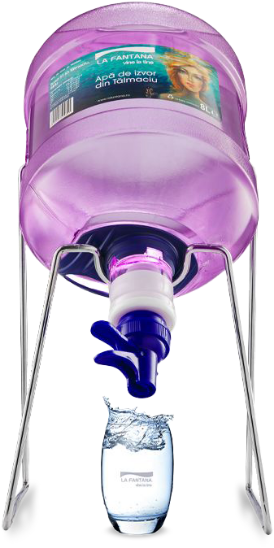 Purchase the START package. It also includes the price of the reusable bottles, which you only pay once.
2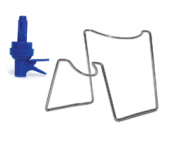 You receive the kit for use with a valve tap and metal stand for use at home.
3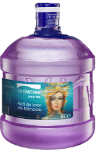 When the water runs low, return to the site and order a Refill Package. This time you will only pay for the water, seeing as you already have the bottles.
4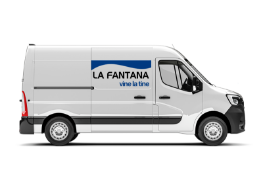 We come to you with full bottles of water and take back empty ones.