Saeco Aulika Evotop
Modern espresso machine with capacitive interface, offering a wide range of drinks
Professional coffee machine
Wide range of drinks
Recipes prepared at the touch of a button
Elegant design, designed to complement open office spaces
Large capacity of water and coffee containers
Professional coffee machine
Wide range of drinks
Recipes prepared at the touch of a button
Elegant design, designed to complement open office spaces
Large capacity of water and coffee containers
A modern and social espresso machine.
Many professionals are more motivated after a really good coffee - and the SAECO Aulika Evo Top espresso machine is ideal for such people. It's elegant, it's very performant, it's made in Italy from quality materials and it offers perfect coffee every time. Whether it's an espresso, cappuccino, or latte macchiato, the chosen drink is prepared quickly after a rapid and intuitive gesture. The espresso machine has a capacitive interface with backlit icons with which your team can quickly browse the menu and choose what they want.

In addition, the large capacity of water and coffee containers makes it ideal for locations with high daily consumption.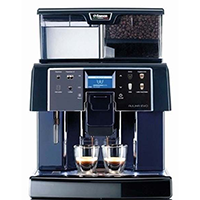 Technical specifications:
Dimensions (W x H x D): 334 x 574 x 452 mm
Weight: 22 kg
Power supply: 230 V / 50 Hz
Water pump pressure: 15 bar
Removable water tank capacity: 4 L
Coffee bean tank capacity: 1.5 kg
Number of direct selections: 8
Grinder tapered steel blades (7-stage adjustment)
Hot water/steam wand
Automatic Cappuccinator "Pinless Wonder"
High-Speed Cappuccino
One Touch Cappuccino / Latte Macchiato
Can brew two coffees simultaneously
Cup height adjustment (85-105 mm)
Pre-infusion electronic function
Residual coffee tray: about 40 coffees