Saeco Royal
Modern and technological automatic coffee machine
Automatic coffee machine
Ideal for small offices and bars
Robust and reliable technology
It works with coffee beans, which it grinds instantly
Automatic coffee machine
Ideal for small offices and bars
Robust and reliable technology
It works with coffee beans, which it grinds instantly
A truly sophisticated espresso machine.
For a really good coffee.
The SAECO Royal machine is the perfect choice if you want an automatic espresso machine that offers quality coffee to your customers or colleagues. It heats the water quickly and offers coffee and milk specialties. It makes a rich, creamy foam, so it is ideal for making milk-based drinks. In addition, it is also practical and cleans quickly.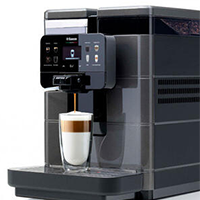 Technical specifications:
Dimensions (w x h x d): 280 x 398 x 460 mm
Weight: 10kg
Power: 1400W
Water pump pressure: 15 bar
Equipped as standard with a drawer for accessories integrated into the machine.
Hot water/steam tap: independent
Display graphics with icons and text messages: Yes
Independent water tank with a volume of 2.5 liters
Grain container capacity: 600gr
Cappuccinator: Yes
Electronic Pre-Infusion: Yes
Can simultaneously make 2 cups of coffee
Hand-adjustable coffee diffuser
Display icons and texts: Yes
Coffee intensity adjustment: Yes
Grinder adjustment: 7 steps
Grinder: conical stainless steel
Residual coffee tray: about 22 coffees