Change of water filters Sistemath Duon
2 compatible Sistemath Duon water filters for exchange
Product intended for those who have already purchased Sistemath DUON drinking water filters
Filtered water retains its mineral content and natural taste
Free installation by a La Fântâna technician
Sustainable hydration solution that reduces plastic consumption
The capacity of the water filters is approximatively 60,000 l / year
Product intended for those who have already purchased Sistemath DUON drinking water filters
Filtered water retains its mineral content and natural taste
Free installation by a La Fântâna technician
Sustainable hydration solution that reduces plastic consumption
The capacity of the water filters is approximatively 60,000 l / year
Change of water filters with installation directly under the sink
If you have already purchased Sistemath Duon filters and need to change them, then this is the package you need. The filters are installed under the sink and connected directly to the cold drinking water tap. Water retains its mineral content and regains its natural taste, making it suitable to drink for the whole family.
The replacement of water filters can be done for the price of 499 lei, including the technician's visit. Water filters require replacement once a year or upon reaching filtration capacity.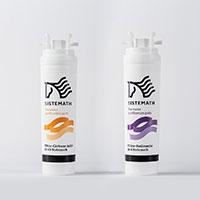 Activated carbon filter
The filter is a block filter with compressed activated carbon with increased functionality. The filter can absorb and remove chlorine and secondary chlorination compounds (trihalomethanes), organic substances, and dissolved gases, that provide the fresh and natural taste of water.
Sediment filter
The filter is a sediment water filter with enhanced functionality and has an excellent ability to remove sediment such as rust, and micro-residues over 1μm, but also larger particles. The filter is made of 100% polypropylene and as such its layered structure ensures excellent filtration capacity.
Dimensions:
Filter set: 440 x 110 x 210;
Single filter: Φ 100 x 373;