Sistemath Carbopurity
Carbo Watercooler with NSSC filtration system and UV sterilization
Efficiently filtered water with good taste; maintains its mineral content
No PET bottles - the equipment is connected to the public drinking water network and you no longer have to worry about carrying and storing PET bottles
Instantly provides still water (cold, hot or room temperature) and carbonated water
Waterblock protection system included
Monthly subscription with payment automatically withdrawn from the card
Free filter replacement and sanitation every 12 months
Efficiently filtered water with good taste; maintains its mineral content
No PET bottles - the equipment is connected to the public drinking water network and you no longer have to worry about carrying and storing PET bottles
Instantly provides still water (cold, hot or room temperature) and carbonated water
Waterblock protection system included
Monthly subscription with payment automatically withdrawn from the card
Free filter replacement and sanitation every 12 months
Carbonated water at discretion
The Sistemath Carbopurify Watercooler provides carbonated water at your discretion - plus all the other benefits of a watercooler that filters, then cools or heats drinking water.

Carbopurify is a small, elegant piece of equipment that can be integrated on any kitchen counter. It has a minimalist appearance with a neutral white color that does not disturb chromatically.

The menu buttons are intuitive and very easy for all family members to use. In addition, it has a locking function to limit use.

The drinking water from the network will be filtered with the help of an NSSC filter (3 in 1) which ensures clean, tasty water, without the taste and smell of chlorine.

The equipment has waterblock technology that provides additional protection in the unlikely event of unwanted accidents.

Installation and maintenance provided by the La Fântâna technical team.

In addition, the equipment is also equipped with a UV lamp in the faucet area, so that the microbiological protection of the water is ensured.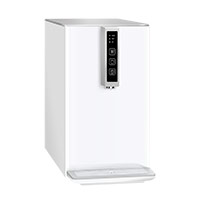 NSSC multifunction filter:
Filtru NSSC
NSSC filter – multifunctional filter, which retains impurities, chlorine, refreshes the taste and smell of water, has an antibacterial and anti-scale effect and significantly reduces limescale deposits that can occur due to water hardness.
Filtering capacity
The filtering capacity of the filter is 11,000 liters.
Dimensions
Water cooling capacity: 2 ~ 12 grdC, 20L/hour;
Water heating capacity: 95 grdC, 12L/hour;
Dimensions: 23 (W) x 44 (D) x 40 (H) cm
In addition to the product itself that will help you have good drinking water at home, we also support you to take care of it. Thus, when you choose a subscription, you also receive filter exchange and free sanitation, as well as installation and maintenance provided by qualified technicians.
1
Order the product with online payment by subscription
2
You leave us your data and we conclude the contract online
3
When you order, you pay the first month of the subscription and the installation fee
4
The team of qualified technicians comes and installs the device
5
The subscription amount will be automatically withdrawn from your card monthly
6
We come to you when maintenance is needed