Sistemath HomeBox
Subscription with high-performance purification system 4 water filters + separate tap for drinking water
System with 4 water filters & waterblock included
No PET bottles - the equipment is connected to the public drinking water network and you no longer have to worry about carrying and storing PET bottles
Installation and maintenance provided by the La Fântâna technical team
Monthly subscription with payment automatically withdrawn from the card
Free replacement of all water filters every 12 months and service included

+

System with 4 water filters & waterblock included
No PET bottles - the equipment is connected to the public drinking water network and you no longer have to worry about carrying and storing PET bottles
Installation and maintenance provided by the La Fântâna technical team
Monthly subscription with payment automatically withdrawn from the card
Free replacement of all water filters every 12 months and service included

+

Compact undersink solution with 4 water filters for home
The Sistemath HomeBox is our compact undersink water filtration solution for the home. This revolutionary kit, consisting of 4 water filters and a dedicated battery, ensures constant access to filtered water for users who have potable water from the mains.

The equipment is equipped with a Waterblock system that activates in the extremely unlikely event of accidental flooding.

With the help of this equipment, you will be able to enjoy filtered, clean and fresh-tasting water, directly from the tap, without the hassle of other solutions or expensive consumables.

Sistemath HomeBox is available as a subscription service, in which, in addition to the equipment offered in custody, you benefit from installation, maintenance, service and the periodic replacement of filters by the La Fântâna team.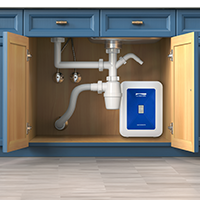 The performance system of four water filters is composed of:
SEDIMENT WATER FILTER
Removes impurities and solid particles such as rust or sand. The filtering capacity is a maximum of 3600l
CARBON BLOCK WATER FILTER
Elimină gustul si mirosul de clor. Capacitatea de filtrare este de maximum 3600l
ULTRAFILTER
This water filter removes bacteria, viruses and other organic contaminants. The filtering capacity is a maximum of 3600l
ANTI-SCALE WATER FILTER
A water filter that prevents limescale. The filtering capacity is a maximum of 3600l
In addition to the product itself that will help you have good drinking water at home, we also support you to take care of it. Thus, when you choose a subscription, you also receive filter exchange and free sanitation, as well as installation and maintenance provided by qualified technicians.
1
Order the product with online payment by subscription
2
You leave us your data and we conclude the contract online
3
When you order, you pay the first month of the subscription and the installation fee
4
The team of qualified technicians comes and installs the device
5
The subscription amount will be automatically withdrawn from your card monthly
6
We come to you when maintenance is needed