WMF 1500s
Automatic coffee machine
Automatic, professional machine recommended for coffee preparation in cafes or bars
Intuitive and customizable interface
Can prepare a diverse range of drinks with or without milk
Works with coffee beans
Automatic, professional machine recommended for coffee preparation in cafes or bars
Intuitive and customizable interface
Can prepare a diverse range of drinks with or without milk
Works with coffee beans
High-performance professional espresso machine
The WMF 1500S professional machine is an elegant and modern espresso machine offering aromatic coffee-based drinks. WMF Double-Thermoblock technology and 5-stage grinder help each barista provide customers with coffees with an intense, unmistakable aroma. The equipment is intuitive and has a touch menu that is easy to navigate and understand. With every use, a perfect foam can be obtained for creamy drinks such as cappuccino, macchiato, and more. Even when soy or vegetable milk is used, professional quality standards are met.

If you want an offer, leave us a message and a La Fântâna consultant will create a personalized package for you, with KAFANE coffee. In addition, it can also provide you with technical information or details on how to provide your team, together with us, with training in the use of this device.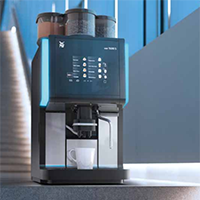 Compact and practical
The WMF 1500S is only 325 mm wide, making it easy to position in any space.
Height-adjustable beverage dispenser
The height of the beverage dispenser can be adjusted with one hand. The maximum height of 175 mm allows coffee to be brewed in larger containers.
"Easy Milk" function
Through this function, the device provides warm milk, and milk foam (hot or cold) that can be used individually for preparing other drink recipes.
Practical containers
All three containers for coffee beans are removable and the dishwasher is cleanable.
MMI interface with touchscreen
One of the revolutionary features of the espresso machine is the Man Machine Interface (MMI). With its help, the menu is easy to understand and can even be used in a self-service system.
Coffee in the cup, in the amount of your choice
The practical Small-Medium-Large (SML) function helps adjust the volume of the drink according to the dimensions of the containers used.
Automatic cleaning
The automatic cleaning system can be activated using the touch display. Once a WMF cleaning tablet is inserted, all parts in contact with the coffee will be cleaned automatically.
Technical details:
Supply voltage 2.75 – 3.5 kW / 220 – 240 V
Total hot water flow 24 liters per hour
Basic Milk / Easy Milk / Dynamic Milk functions
1.29 / 1.37 kWh
Container for chocolate or topping 1200 g
Equipment dimensions (width/height/depth) 325 / 675mm / 590 mm (Measured height including coffee container, with lock but without key).
Net weight Approx. 35 kg