KAFUNE Mix coffee beans pack
5 kg of coffee beans premium Arabica, Intenso, Aromao, Serenita, Light
Two bags of coffee beans from the ARABICA, INTENSO, AROMAO, SERENITÀ, and LIGHT selections (each bag contains 500g of coffee beans)
Blends created by Italian experts, for every preference
Flavors that are diverse, memorable, and full of personality
Beans selected, roasted, and carefully combined in unique mixtures
Two bags of coffee beans from the ARABICA, INTENSO, AROMAO, SERENITÀ, and LIGHT selections (each bag contains 500g of coffee beans)
Blends created by Italian experts, for every preference
Flavors that are diverse, memorable, and full of personality
Beans selected, roasted, and carefully combined in unique mixtures
5 kg of coffee beans, five different effervescent tastes
KAFUNE LIGHT
The only blend of this type on the Romanian market, with up to 50% less caffeine than a regular one. Part of the caffeine is eliminated by the removal of the superficial layer of "wax" of the green coffee bean.
What do you get? A premium, delicate, and stomach-friendly blend that preserves the intense aroma of coffee from KAFUNE's selections.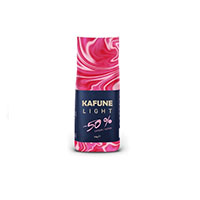 KAFUNE AROMAO
KAFUNE AROMAO is a balanced blend of Arabica and Robusta. The intense mark complemented by the exquisite aroma is obtained by medium roasting of the coffee beans. While enjoying it, you get a rich taste with a well-defined body, and the taste that remains, always full and strong as a vivid memory.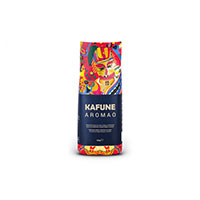 KAFUNE INTENSO
A strong coffee is full of personality and brings the taste of Italy in a cup of KAFUNE INTENSO. Italian artisans have carefully combined Arabica and Robusta beans, creating a special taste for those who want, at the same time, refinement and intensity.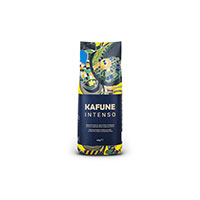 KAFUNE ARABICA
The finest Arabica varieties have been masterfully combined to create the KAFUNE ARABICA coffee bean blend: a delicate yet strong taste in a flavorful drink. Roasted beans retain a freshness of taste, which is revealed at the time of grinding – a coffee lover's most cherished moment.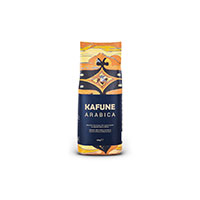 KAFUNE SERENITÀ
Due to the higher proportion of Arabica, KAFUNE Serenita is a delicate blend with a more subtle but deep taste. Fruity shades accentuate its freshness and fine aroma: a coffee perfect to enjoy in relaxing moments.