KAFUNE Mix coffee beans pack
5 kg of coffee beans premium Equilibrio, Arabica, Aromao, Light
Two bags of ARABICA, EQUILIBRIO, and AROMAO coffee and four bags of LIGHT coffee (each bag contains 500g of coffee beans);
Blends created by Italian experts, for all tastes
Diverse flavors, full of personality and defining characteristics
Grains selected, roasted, and carefully combined into blends with personality
Two bags of ARABICA, EQUILIBRIO, and AROMAO coffee and four bags of LIGHT coffee (each bag contains 500g of coffee beans);
Blends created by Italian experts, for all tastes
Diverse flavors, full of personality and defining characteristics
Grains selected, roasted, and carefully combined into blends with personality
5 kg of coffee beans with different flavors: each will become your favorite
KAFUNE LIGHT
A unique blend on the Romanian market, with up to 50% less caffeine than a standard one. The low caffeine content is achieved by the removal of the superficial layer of "wax" of the green coffee bean.
Result? A premium, delicate, and easily digestible blend with the same intense coffee flavour from KAFUNE's selections .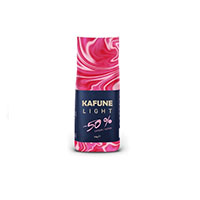 KAFUNE AROMAO
KAFUNE AROMAO KAFUNE AROMAO is the perfect blend of Arabica and Robusta. The intense mark, complemented by the perfect aroma, is ensured by the medium roasting of the coffee. While savoring it, you enjoy a rich, superior taste with a well-defined body. The aftertaste is always full and powerful – a vivid memory.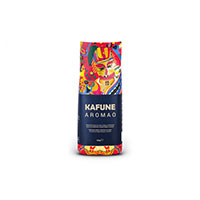 KAFUNE ARABICA
The best Arabica varieties have been carefully combined to create the KAFUNE ARABICA coffee bean blend: a refined yet robust taste in a drink full of flavour. The freshness well preserved in roasted beans comes out when you grind them – the most beloved moment for coffee lovers.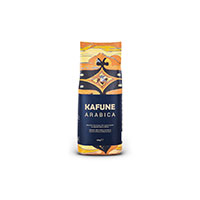 KAFUNE EQUILIBRIO
The ideal blend between Arabica and Robusta coffee, in a balance of taste, intensity and aroma. The blend of the two different varieties of coffee creates a perfect selection for those looking for harmony between bitter and sweet tastes.