Coffee capsules KAFUNE ARABICA
Premium coffee 100 capsules BLUE
The box includes 100 capsules compatible with the Lavazza Blue system*
Shelf life of two years from the time of packing
Each capsule contains 9g of coffee, for a more intense espresso
The box includes 100 capsules compatible with the Lavazza Blue system*
Shelf life of two years from the time of packing
Each capsule contains 9g of coffee, for a more intense espresso
The quintessence of the best Arabica varieties
KAFUNE ARABICA was created by Italian experts by combining the best varieties with unique characteristics from the Arabica assortment. If we talk about flavor and sweetness, the blend is the maximum that can be obtained for an espresso coffee.
The pleasure of a subtle and aromatic espresso
Being a blend with medium roasting and lower caffeine content, with a delicate body, the aroma of coffee cherries stands out. Moreover, after each sip you are left with a harmonious aftertaste, dominated by nuances of ripe apricot.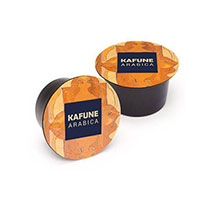 *Lavazza Blue is a registered trademark of Luigi Lavazza SPA. La Fântâna SRL is not associated with or sponsored in any way by Luigi Lavazza SPA.