KAFUNE mixt pack capsules
Pack of 50 KAFUNE capsules compatible Nespresso
Five boxes of 10 capsules of each blend
Each capsule contains 5.2g of KAFUNE coffee
Shelf life of two years from the moment of packaging
Five boxes of 10 capsules of each blend
Each capsule contains 5.2g of KAFUNE coffee
Shelf life of two years from the moment of packaging
The ideal mix of tastes for every preference
KAFUNE ARABICA
KAFUNE ARABICA capsules are created from the most appreciated and well-known varieties of the Arabica assortment. They contain a smaller amount of caffeine, but they offer a strong aroma and a soft, sweet taste that you easily notice. That's why blend is a natural choice for those who appreciate subtle coffee.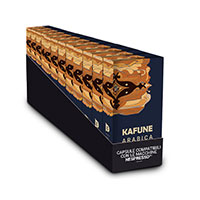 KAFUNE LIGHT
Although they contain up to 50% less caffeine than a standard blend, KAFUNE LIGHT capsules do not compromise the taste of coffee. Discover a premium blend, unique in Romania, which brings you the intense flavor of KAFUNE's selections.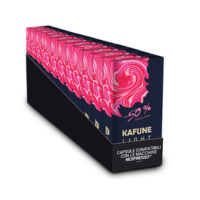 KAFUNE AROMAO
KAFUNE AROMAO capsules are obtained from Arabica and Robusta assortments and offer a rich taste and a delicate and consistent cream, which indicates a well-defined body. In the aromas, you can feel nuances of vanilla and bergamot. A light brown color with reddish shades completes the whole experience.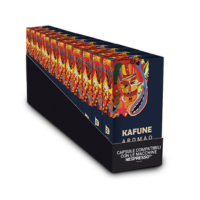 KAFUNE INTENSO
KAFUNE INTENSO capsules propose a refined espresso that harmoniously combines the flavors of Arabica and Robusta. With an accentuated body and dense texture, this blend gives you a sophisticated yet powerful experience. Redefine the pleasure of a quality espresso with KAFUNE INTENSO.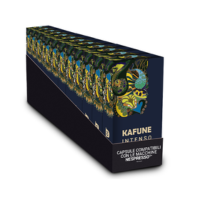 KAFUNE SERENITÀ
Because Arabica is found in a larger quantity in KAFUNE SERENITÀ capsules, the espresso obtained is more delicate but still has a strong flavor. You feel freshness in fruity shades, and the deep taste turns coffee into a moment of relaxation.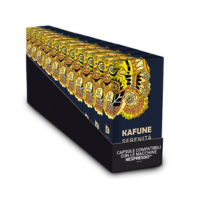 *Nespresso® is a registered trademark of Société des produits Nestlé SA. La Fântâna SRL is not associated with or sponsored in any way by Société des produits Nestlé SA.