KAFUNE ARABICA capsules pack
Premium coffee KAFUNE 120 capsule compatibile Nespresso
The pack includes 12 boxes of 10 coffee capsules each
The capsules contain 5.2g of KAFUNE ARABICA coffee
Lower caffeine content, accentuated sweetness, and medium roasting
The pack includes 12 boxes of 10 coffee capsules each
The capsules contain 5.2g of KAFUNE ARABICA coffee
Lower caffeine content, accentuated sweetness, and medium roasting
The coffee you don't want to forget
KAFUNE ARABICA capsules have been obtained by Italian experts from the best varieties of the Arabica assortment. Because it has a lower amount of caffeine, but also because it promises an aromatic and sweet espresso, the blend is a natural choice for those who love a subtle coffee.
Even with a delicate body, the aroma of coffee cherries stands out. Moreover, after each sip you are left with a harmonious aftertaste, dominated by shades of ripe apricot.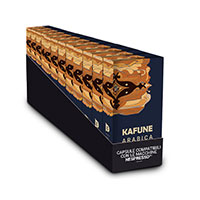 The capsules are compatible with the Nespresso system.*

*Nespresso® is a registered trademark of Société des produits Nestlé SA. La Fântâna SRL is not associated with or sponsored in any way by Société des produits Nestlé SA.