KAFUNE INTENSO capsules pack
Premium coffee KAFUNE 120 capsule compatibile Nespresso
The pack includes 12 boxes of 10 coffee capsules each
The capsules contain 5.2g of KAFUNE INTENSO coffee
Well-defined fullness, medium roasting, and strong aroma
The pack includes 12 boxes of 10 coffee capsules each
The capsules contain 5.2g of KAFUNE INTENSO coffee
Well-defined fullness, medium roasting, and strong aroma
An espresso like on the sunny terraces of Italy
The aroma of coffee obtained from KAFUNE INTENSO capsules is exactly as the name indicates: intense, reminiscent of freshly toasted bread. The taste you discover is a special one, with nuances of dark chocolate and currants and at the end you feel a pleasant sensation of fine chocolate. The average caffeine content gives you the balanced espresso you need during a busy day.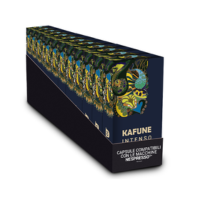 The capsules are compatible with the Nespresso system. *

*Nespresso® is a registered trademark of Société des produits Nestlé SA. La Fântâna SRL is not associated with or sponsored in any way by Société des produits Nestlé SA.