Coffee capsules KAFUNE Aromao
Premium coffee 100 capsules Blue
The box includes 100 capsules of 9g coffee each, compatible with the Lavazza Blue system*
For a coffee with a well-defined body and a lower caffeine content
Shelf life of two years from the moment of packaging
The box includes 100 capsules of 9g coffee each, compatible with the Lavazza Blue system*
For a coffee with a well-defined body and a lower caffeine content
Shelf life of two years from the moment of packaging
The aroma you feel for a long time
KAFUNE AROMAO capsules, obtained from the combination of Arabica and Robusta assortments, offer a rich taste and a full body, which is seen in the delicate and consistent cream. The intense aromas with hints of vanilla and bergamot stand out best, and the light brown color with reddish hues completes the whole experience.
What's more, it contributes to the flavor that stays with you after every sip, through the lemongrass notes in the aftertaste.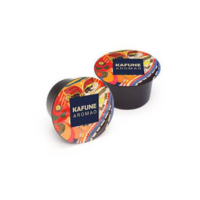 *Lavazza Blue este o marcă înregistrată a Luigi Lavazza SPA. La Fântâna SRL nu este asociată sau sponsorizată în niciun fel de Luigi Lavazza SPA.